A tight belt can give you back pain. Just check some of the other health dangers of wearing a tight belt. Don't say we didn't warn you!
A loose belt will make you look sloppy and unprofessional.
You owe it to yourself to wear a belt that fits, because wearing one well confirms that you're a man who knows his clothes. It's one of those litmus fashion tests.
So, let's find out the best and simplest ways to measure for your proper belt size and actually wear one of the best accessories men have in their arsenal the right way.
LET'S START WITH A SIMPLE QUESTION: DO YOU KNOW WHAT SIZE YOU SHOULD WEAR?
Are you still wondering what belt size you should be buying and wearing, and possibly have no clue how men's belts are sized and measured?
Do you have your size, but are in the dark of how a good belt should fit?
The basics of belt fashion are not that hard to learn. Whether you like these accessories casual or formal, it's more about personal taste. Wearing the right size, on the other hand.
Stick with this guide and you'll learn how to determine the correct belt size!
WHAT BELT SIZES ARE AVAILABLE?
Before learning how to pick a belt size properly, you first need to understand the concept of size labels on belts.
SO, HOW DOES BELT SIZING WORK?
The belt size is a standard used by most quality belts manufacturers, covering a variety of sizes for different types of bodies.
The standards are:
S (small) – 26 to 30 inches
M (medium) – 32 to 44 inches
L (large) – 46 to 50 inches
XL (extra large) – 52 to 58 inches
XXL (extra large) – 60 inches +
Each belt size corresponds to a specific waist measurement.
You can check it out in the belt sizes chart below:
| Belt Size | Waist Measurements |
| --- | --- |
| Small | 26 to 30 inches |
| Medium | 32-42 inches |
| Large | 46 to 50 inches |
| XLarge | 52 to 58 inches |
| XX-Large | 60 inches + |
HOW TO MEASURE A BELT : 2 FOOLPROOF WAYS
Choosing the correct size is based upon an accurate measurement. That's why it is important to know exactly how belts are measured and be able to select the correct size for your belt.
There are two main ways you can use to measure your belt size:
Method 1: THE ONE SIZE UP
Is belt size the same as pant size? The short answer is No. Belts don't just go around your waist, but also around your pants and shirt. That's exactly why a properly fitting belt should usually be just a little larger than your waist measurement or pants size.
This method implies that you should buy a belt that is 1.2 inches (2.5 – 5 cm) larger than our pants size, or your waist measurement.
For example, if you wear a 34 size pants, you should order a 36 size belt. If you wear odd size pants, such as 33, you won't find a 35 size belt, but can still stick to the 1.2 inches rule by choosing a 36 size belt.
Method 2: MEASURE A BELT YOU ALREADY OWN
This second method implies you measure a belt that you already own.
Start by measuring the material from the buckle to the most used hole.
Then, size up to the nearest size.
When measuring a belt, you should do it from the edge of the buckle to the middle hole. Fitting a belt to the middle hole is important because it gives you more flexibility with your belt.
Usually, standard belts have five holes, one inch apart each, but some manufacturers may use six or seven holes.
In each case, there is one rule applied: A 34-inch belt should measure 34 inches from the far end of the prong which is shafted in the center of the buckle, to the center hole.
Here's a visual example on how to measure a belt:

Never measure a belt from end to end, because you will not get the accurate size for it!
Usually, the measurements are stamped onto the back of the belt, so a number of 34 on the belt will represent the size.
HOW SHOULD THE BELT LOOK ONCE IT'S FASTENED
Once it's fastened, the belt should always have to be a few inches of leather sticking out. This should be just enough to tuck it under the first belt loop or the loop on the belt (if it has one).
A good belt should look like this: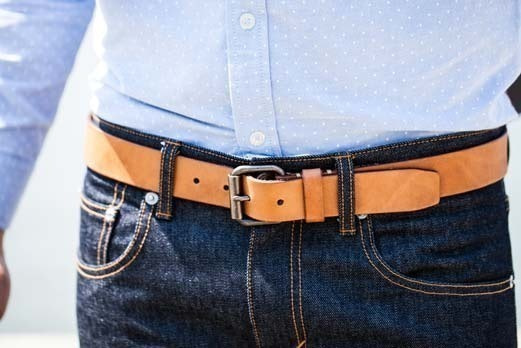 Make sure the end of the belt is not too long, though; an overly long tail end has an unaesthetic look.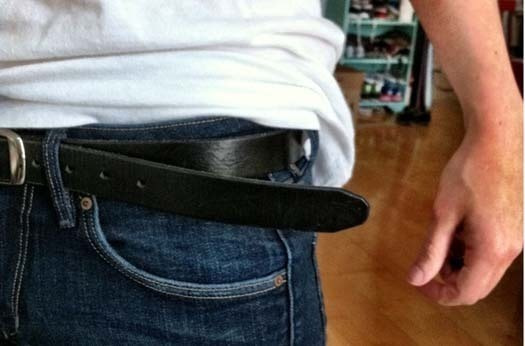 HOW TO FIND THE PROPER BELT SIZE IN 5 STEPS
Finding the proper men belt size is not such a difficult task to do. Here are a few steps you can follow in order to do that:
Step 1: Decide the part of your waist you will be wearing the belt because this will influence the fit of the belt.
Step 2: If you're wearing your belt around your waist, do the measurements around your natural waistline (situated at the belly button), because this is the smallest part of your torso.
Step 3: If you.re wearing your belt around your hips, take the measurements around the fuller part, where your low-rise jeans should fall.
Be careful not to measure the fullest part of your hips. It might not offer you the right measures for the proper belt size.
Step 4: This size should indicate the measurement from the buckle prong to the centered hole of the belt.
Step 5: Decide what the design will be and buy the right belt after matching it with your measures in the belt size chart.
| | |
| --- | --- |
| Pant Waist Size | Belt Size |
| 28-29 | 30 inches |
| 30-31 | 32 inches |
| 32-33 | 34 inches |
| 34-35 | 36 inches |
| 36-37 | 38 inches |
| 38-39 | 40 inches |
| 40-41 | 42 inches |
| 42-43 | 44 inches |
| 44-45 | 46 inches |
| 46-47 | 48 inches |
| 48-49 | 50 inches |
| 50-51 | 52 inches |
| 52-53 | 54 inches |
| 54-55 | 56 inches |
| 56-57 | 58 inches |
| 58-59 | 60 inches |
| 60-61 | 62 inches |
| 62-63 | 64 inches |
| 64-65 | 66 inches |
| 66-67 | 68 inches |
| 68-69 | 70 inches |
CAN BELTS BE SHORTENED, TAILORED OR ALTERED?
This is a common question, with a very simple: yes, you can definitely alter them!
When altering your belt, you can bring the following adjustments to it:
increase number of holes
alter the length
add accessories to it
You can also tailor the shape of your belt. However, this isn't really recommended because it involves a more complicated process that left in inexperienced hands risks damaging the belt.
HOW CAN BELTS BE SHORTENED?
Belts can be shortened in two ways:
The do it yourself way (DIY)
Or simply take it to a tailor, a local professional manufacturer, like Belts from OZ, or a shoe repair shop.
DIY OR TAKE IT TO A PROFESSIONAL. WHAT'S THE BEST OPTION?
To answer this question, you must see if the belt buckle can be removed by screw or clasp. If you can do that, it means the resizing process is as easy as cutting the excess leather and reattach the buckle to it.
If the buckle is permanently attached to the belt, the resizing will require cutting the buckle off, then drill some new holes in it.
If it cannot be easily resized, it's most likely a cheap belt and it's just not worth going through this whole process. Our advice is to simply look up a new belt – you've got plenty of options!
If you want to do it yourself, the easy way to shorten a belt is to cut the end with the holes and make some new ones.
If you.re asking yourself how should your belt fit, you should know this: a belt is not allowed to perfectly fit your waist because it's not going directly on your skin.
A belt should be neither too tight, nor too loose, but somewhere in between. It should be tight enough to hold your pants, but loose enough not to crinkle them and strangle your waist.
HERE'S HOW TO KNOW YOUR BELT IS: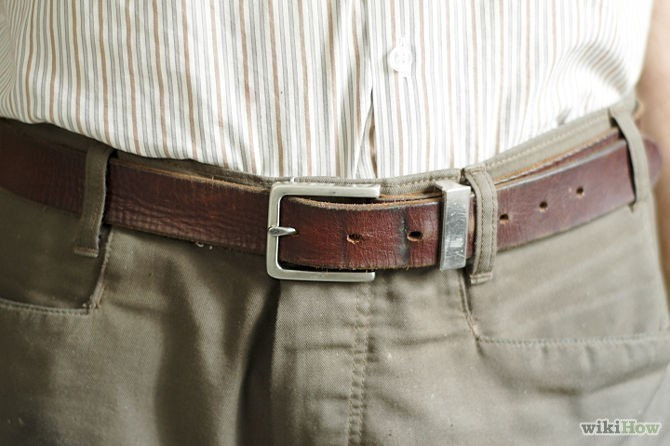 Let's say you've been working out and those abs finally start showing. Great work! However, your belt might be too loose now. But how loose is too loose?
When the size of the belt is larger than it should, it looks strange, unprofessional and sloppy. The best way to avoid a belt that's too big is to find the proper belt size for you.
If you have a belt you like a lot and it's too big for you, you can always shorten it yourself or at a shoe repair shop, or simply buy another one that matches your new healthy waistline!
Do leather belts stretch out over time?
At Belts from OZ we like to do thing genuinely. So we use reali genuine leather and many of our clients wonder whether you should order a smaller size for your belt in case it will stretch over time. The answer is yes and no.
Let's dive in more:
Genuine leather does stretch over time, it's true. But it would take a year or more of daily use for a premium quality belt to do that. Even if it's the case, it would be up to one-quarter of an inch, which is insignificant.
And this is how you properly measure a belt size!
In conclusion, no matter what style of belt you're wearing, the one thing that's important is to wear the size that fits you. It's not just your personal comfort at stake, but also your health.
For more help and information, browse our useful belt resources!
Our Best-Selling Leather Belts